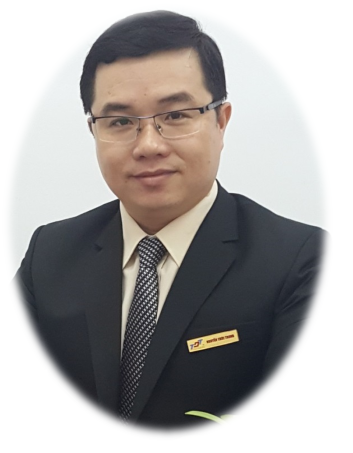 Prof. Le Vinh Danh, the President of Ton Duc Thang University!
Prof. Nguyen Van Tuan, Chairman of Selection Committee of Ton Duc Thang University Scientific Prize!
Fellow Awardees!
Colleagues and Students, Ladies and Gentlemen!
First of all, I would like to express my gratitude to Ton Duc Thang University for the excellent ideas and breakthroughs of establishing an international scientific prize, and organized a grand ceremony today. I would like also to thank Prof. Nguyen Van Tuan for his nice introduction about me.
Right now, I feel very happy and proud to stand on this stage to receive the lifetime achievement award - Ton Duc Thang University's highest award. This is the first time that a prize has awarded by a Vietnamese university, and is widely considered around the world. I am especially honored to be the only Vietnamese scientist to receive the award together with three other excellent foreign scientists.
Actually for me, being awarded today is a blessing and an unexpected reward. Before deciding to apply for TDTU prize, I thought I was not appropriate to apply both prizes, lifetime and rising stars.... With the rising star award, I find myself too old to apply, and with the lifetime award, I'm too young, and probably I need much effort to do teaching and research for many years to think about applying.... But with the encouragement of Dr. Le Van Ut and my colleagues, I still applied without much expectation. Therefore, when Prof. Nguyen Van Tuan informed me as the winner of Lifetime Achievement Award this year, together with Dr. Edward McBean, I was really surprised and happy. I understand that I was lucky to be selected this time because there were many other bright candidates applying and also because I am still young compared to the name of the award: Lifetime achievement award. However, at this time, when I received the award in my hands, my thoughts have changed too, and I saw it not only as a present award, but as a prize in the future, reminding me to continue and strive to further develop my capabilities and contribute to the success and development of TDTU, as well as the development of the computational science field in Vietnam in the coming years. To be worthy of the honor and the name of the award: Lifetime achievement award.
By the way, I would like to share some information about four factors that makes this award more significant for me. 1) First, it is the unconditional constant support of the family, which gives me a solid foundation and conditions necessary to work and study peacefully. Love and sacrifice of family is a strong support and motivation for me to have enough strength and commitment to overcome the difficulties and challenges in life; 2) Secondly, it is the present and past mentors who have taught valuable knowledge to help me acquire the knowledge, skills, abilities, commitment and visions of today. I would like to list three teachers among them, the first being Prof. Ngo Thanh Phong, my first supervisor, who helped me to have a suitable career orientation; Next is Prof. Gui Rong Liu, my Ph.D. thesis supervisor, helped me integrate and develop into an international scientist in computational mechanics; and finally Prof. Le Vinh Danh, President of Ton Duc Thang University, has provided me with useful management knowledge, a vision and a strong belief in a fair, efficient and dedicated working environment; 3) The third is the past and present workplaces, has trained me more mature and developed. Specifically, it is Department of Mechanics, faculty of Mathematics and Informatics, University of Natural Sciences, Vietnam National University HCMC, has trained and developed me into a teacher. It is the Faculty of Engineering Mechanics, National University of Singapore, which awarded scholarships and created the most favorable conditions for me to complete the PhD thesis, and created solid foundations to help me stay firm in teaching and research. And especially It is Ton Duc Thang University which has helped me to work more effectively and to promote my capacity. A model of autonomous university, which is effective, dare to think, dare to do, dare to innovate, dare to overcome barriers and challenges to constantly develop and integrate into the world; a university that guides and motivates innovation for other universities in Vietnam to follow. And I myself want to be an active member who can contribute effectively to the achievement of TDTU. 4) And fourthly, the students, colleagues and staffs have always supported, collaborated very effectively to help me accomplish the tasks assigned in management, training and scientific research.
Therefore, I would like to take this opportunity to send my deepest and sincere thanks to my family, my teachers, the current and past workplaces as well as the students and my colleagues, who have taught me, worked with me, guided me, supported me in one way or another, loved me and were just there for me. So I see this award as the fruit of the effort and unity of a large team. I also want to take this opportunity to thank the staff, teachers, managers of Ton Duc Thang University for their contribution and dedication through the last 20 years.
In conclusion, on the New Year occasion, I would like to wish you a new year with health, happiness and success. I wish Ton Duc Thang University to succeed in coming years and soon to achieve the goal to become the top 60 universities in Asia. Thank you!